REWIND
On June 9th 2006., in cooperation with Rex, we performed our Rewind! act in front of several Serbian government institutions which are more harmful then useful to people at this point.
This performance directly criticizes regressive processes in our society and institutions that support or at least don't stop such processes.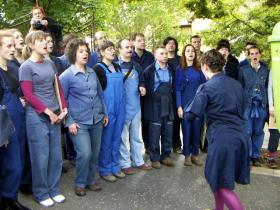 Performance took place in front of seats of these institutions:
- Belgrade University
- Serbian Academy of Science and Art
- Serbian Ortodox Church
- Supreme Court of Serbia
- Government of Serba
Hear Rewind (600 KB mp3)
Hear radio-jingle (250 KB mp3)
See video for Rewind (1.8 MB rm)
NAZAD
Nazad u mrak
daju nam znak
nazad u kvar
za davnu stvar
Nazad u mulj
potopi žulj
nazad u boj
za narod svoj
Nazad u jad
selo i grad
i star i mlad
unazad sad
ARRIÈRE
Arrière à l'obscurité
il nous donne le signe
Arrière à la panne
pour une chose anncienne
Arrière à la vase
immerge le cor
Arrière au combat
pour son peuple
Arrière à la peine
le village et la ville
même le vieux et le jeune
En arrière sur le champ!
НАЗАД
Назад в мрак
сделали нам знак
назад в провал
для древной вещи.
Назад в грязь
ущерб погружай
Назад в бой
для своего народа.
Назад в бедность
город и деревня
юный и старый
назад сейчас.
REWIND
Rewind to dark
they signal to us
Rewind to flaws
for ancient cause
Rewind to mud
dip calloused hand
Rewind to battle
for your motherland
Rewind to calamity
both village and city
both old and young
let's all rewind
ZURÜCK
Zurück in die Finsternis
sie geben uns das Zeichen
zurück in die Beschädigung
für das einstige Ding
Zurück in den Schlamm
tauch die Schwiele ein
zurück in die Schlacht
für das eigene Volk
Zurück in den Jammer
Dorf und Stadt
Alt und Jung
zurück, sofort
ATRÁS
¡Atrás! ¡A la oscuridad!
Nos dan la señal.
¡Atrás! ¡A la rotura!
Por lo antiguo.
¡Atrás! ¡Al fango!
Entierra el callo.
¡Atrás! ¡A la lucha!
Por tu pueblo.
¡Atrás! ¡A la miseria!
Pueblo, ciudad,
Joven y viejo,
¡Todos atrás!
INDIETRO
Indietro nel buio
ci danno il segnale
indietro nel guasto
per il vecchio ideale.
Indietro nel fango
affonda il callo
indietro in battaglia
per il tuo popolo, fallo.
Indietro nel dolore
campagne e città
vecchi e giovani
andiamo all`indietro.
回去
回去黑暗
他们给我们迹象
回去破坏
赞助过去的事儿
回去软泥
水灾和胼脂
回去战斗
赞助自己的国民
回去痛苦
诚市和农村
年轻的和老的
现在向后地走
---
words: škart
music: Radivoje Rašković
arrangement: Vladimir Živković
translations: Marija Travica (German), Svetlana Novaković (Italian), Midica Milovanović (Spanish), Ivana Elezović (Chinese), Marija Balubdžić (French), Milan Marković (English), Luka Stanisavljević (Russian)